Here Are the Benefits of the Celebrity-Approved Aerial Yoga and Why You Should Give it a Try!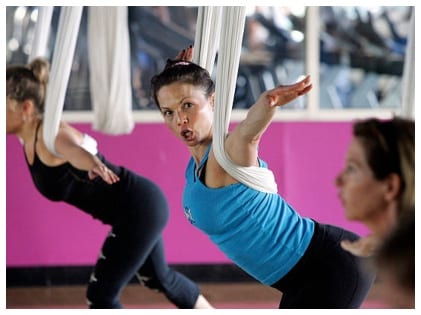 Aerial Yoga is the new 'it' workout that is complementary practice for traditional Yoga. While any form of Yoga can be great for you, aerial Yoga offers a better option for joint or spinal pain. Aerial Yoga helps get into deeper postures as you use a silk hammock as a prop and contact point and suspend it. Suspending from the ceiling isn't easy, and practicing is the only way to master the suspension bit.
Aerial Yoga boasts of several benefits. It reduces stress, anxiety, and inflammation. It is also helpful in combating chronic pain. Yoga is indeed a magical practice that brings the conjunction of mind and body to improve mental and physical health.
It is an ancient practice that helps reinvent your bodies in unique ways. Aerial Yoga is also popular as suspension training or zero-gravity Yoga. Incorporating practices such as Yoga, pilates, and aerial acrobatics, the class throws in a hammock-like apparatus that works against gravity. No wonder aerial yoga is the workout of choice for international celebrities such as Gwyneth Paltrow, Mariah Carey, Pink, and Natalie Portman.
Full-Body Workout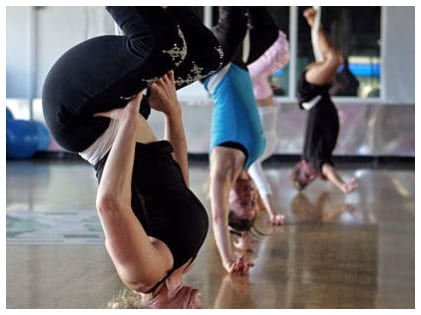 Aerial Yoga is beneficial in more than one way because it combines the benefits of calisthenics and aerial moves. Aerial Yoga is a slower workout, and it requires more concentration and effort. And thus, every movement benefits the whole body rather than focusing on just a few areas of your body.
Improves Core Strength and Initiates Fat Loss
Aerial Yoga exercises can help strengthen the core muscles. Besides that, it also strengthens the back, stomach, and pelvis to improve all-around physical strength. The more muscles you can build, your body works more powerfully to burn the fat.  So, in the long run, you would have strong muscles and less fat in your body!
 Reduces Back Problems
There is not enough science-backed information that proves the benefits of Aerial Yoga with back pain. However, experts believe that it does reduce back pain. The beauty of physiotherapy is the anti-gravity stretches which help improve conditions such as scoliosis and muscle spasms.
This type of yoga forces the spine to separate from the vertebrae, thus relieving the pressure on discs and ligaments. It gives you the ability to hang from the ceiling using the rope or cloth while you decompress and lengthen your spine.
Improves Flexibility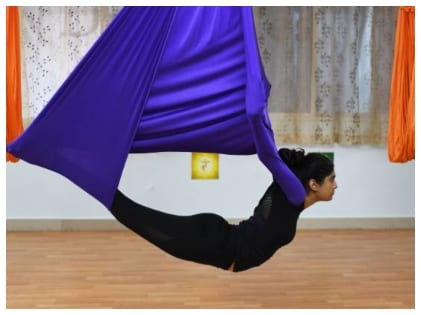 Aerial yoga stretches the exercise and helps reach each corner of the muscles and parts of the body that you may not target with regular exercise. When you get suspended from a hammock to an upside-down position, your body uses muscles you do not use during conventional workouts. And thus, aerial yoga helps ease those tightly wound muscles with the support of the hammock. It assists in coercing the body into various difficult positions that we may not reach on its own.
Boosts Circulation
The gravity-defying position of aerial yoga boosts the blood recycling process. Our heart pumps the oxygenated blood around the body to bring back the deoxygenated blood. Just by contorting the body into an upside-down position, the blood then rushes to our heart, bringing about rejuvenation in the circulation process. However, it may not be ideal for everyone. So consult a medical professional before trying this, especially if you have low or high blood pressure.
Enhances Mood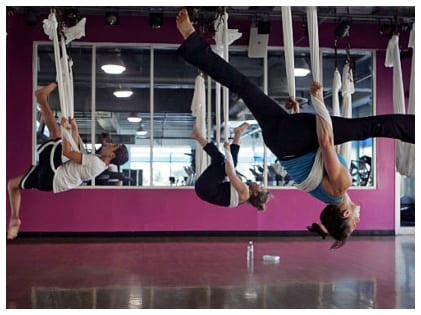 Those aerial positions may seem intimidating and overwhelming, and you will see a drop in the adrenaline as you move in a topsy-turvy position. And this will be unlike anything you have experienced before. Being upside-down increases the adrenaline and produces all the happy hormones such as serotonin, dopamine, and endorphins, bringing about a feeling of all-around happiness.
Connect with an Aerial Yoga class near you. Book a class to enjoy a unique and beautiful exercise and find out whether it caters to your needs. The initial classes may not seem easy for the uninitiated, but gradually you get the hang of it, yes, literally.
Also, since it promises, flexibility and fun in equal measure, it is just the thing to try. So, here's the time to fly and nail your workout. If you have tried all the workouts but haven't yet chosen the aerial route for it, then try and go for aerial yoga. No wonder Gweneth Paltrow loves it!