Can the Powerful Combination of Prebiotics and Probiotics Help You Lose Weight?
Your gut health holds paramount importance when it comes to weight loss. Feeding the good bacteria in your gut and maintaining a proper balance of good bacteria is the real deal here. While we always hear about the best food combinations for weight loss, what many of us do not know is that it is the combination of pre and probiotics that can turn out to be the secret sauce behind your weight loss.
Prebiotics and probiotics forge a symbiotic relationship and promote good gut health. It promotes weight loss as it controls your appetite, and also belly fat and inflammation. While probiotics are foods that promote good bacteria prebiotics are better known as soluble fiber which reaches the colon where they get fermented by the bacteria present in the colon. So, which are the all-time best food options that can help you shed stubborn pounds.
Dark Chocolate and Bananas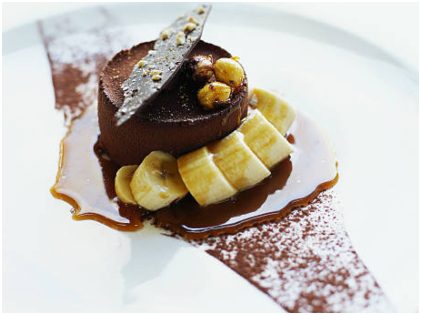 This is one powerful and delicious combination where dark chocolate happens to be the probiotic and banana is prebiotic. Many people think that bananas have too many carbs and are not the ideal weight-loss food. But people cannot be more wrong about that. Bananas contain potassium that keeps your muscles hydrated. When you combine it with delicious dark chocolate you get the best combination to lose weight and the perfect aid to digest your food.
Turns out that we are not the only ones who adore chocolates, our gut bugs are huge fans of chocolate. The gut microbes ferment the banana and chocolate to turn it into a compound that can stall insulin resistance. If you want to make the best of this power duo, freeze the banana and dip them into chocolate to turn them into a healthy dessert, perfect for those sweet cravings. Just ensure that your chocolate is at least 70% or higher and it has little to no sugar.
The Berry Tasty Smoothie
This smoothie is as delicious as it gets. All you have to do is combine the probiotic, Greek yogurt with prebiotic, berries. Smoothies can turn out to be the ultimate combination to reach your flat stomach goals. Greek yogurt has two strains of bacteria, Lactobacillus bulgaricus, and Streptococcus thermophilus. When you add wild blueberries to the mixture you increase the fiber content or the prebiotic content. If you want to increase the prebiotic fiber even further then you can also add flax seeds.
Cottage Cheese and Crunchy Crackers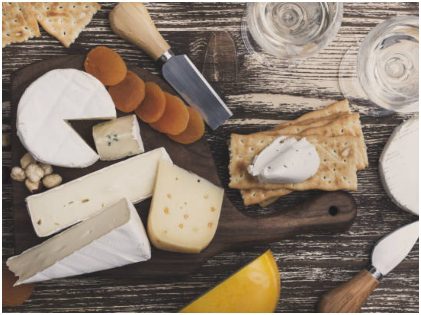 The Probiotic-rich cottage cheese and the prebiotic-rich flax seeds crackers are other great combinations that ensure your gut is in great health. They can also cut down on extra calories and the cheesy and delicious texture can keep you satiated for a long time. However, you have to choose your cottage cheese carefully, there are a few brands that add the good quality probiotic strains making it a great gut-friendly food option. Pair that with a cracker made up of flax seeds and there you have the perfect snack ideas.
The crackers are pretty rich in prebiotic fibers too, so they feed your good bacteria and help them to flourish. If you are trying to find a great weight loss combination for breakfast, ensure you pair your cottage cheese with blueberries! A simple breakfast idea to rustle up without much ado. Also, it is plain delicious and you are sorted till lunch. Hunger calls gnawing the insides of your stomach is not a good idea as you tend to reach out for the wrong kind of snacks and sabotage your weight loss efforts, so a good breakfast including the cottage cheese and crackers is always a good idea.
Miso Soup and Scallions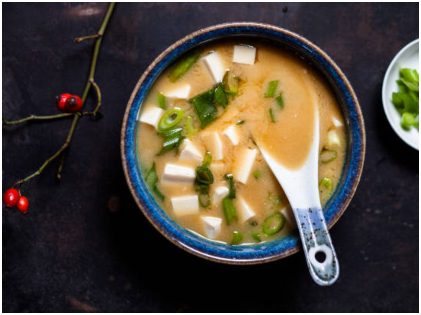 Miso has the probiotic and you have the scallions for the prebiotics. This is a soul-satisfying appetizer. Miso is made up of soybean that is fermented with a fungus called Aspergillus oryzae. Miso is also a great protein and contains 9 essential amino acid which aids in muscle building. Don't forget to increase the inulin-rich green onions or scallions that act as a great gut cleanser and are one of the best buddies for your gut.
What is your favorite pre-biotic and probiotic combination? Did it help you to improve immunity and help in weight loss? Add a different variety of prebiotic and probiotic combinations every day as when it comes to weight loss the more the variety the merrier your gut bugs!
More in Nutrition & Weight Loss